VERSE
by Marcus Parsons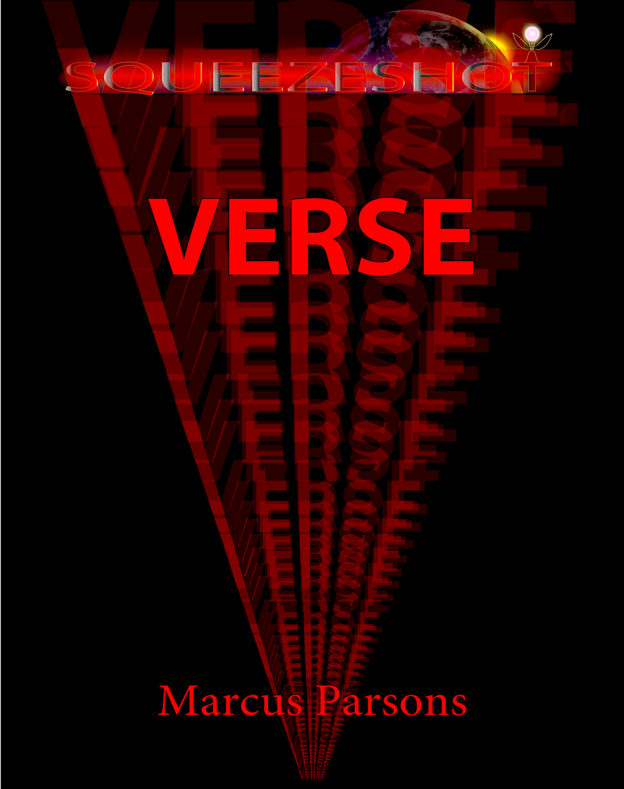 Many of these poems also appear in the Squeezeshot Saga.

(Related: three artworks inspired by Emily Dickinson poems)


---

the spiral
of mortality
its motion
and change
the urge
to survive
with wishes
for the future






FACE UP
face up on the table relaxed
legs loose knees bent arms open
and now
what








REGARD FOR MEANING

In less
than an
instant the
ring of a bell
born of silence
delivers meaning
that neither begins
nor ends











MIND


Mind everyone's mind does
what it always does
It looks in looks out
doesn't look
never looks
It sees everything
and more always more
And it sees less too always less
less than anyone can imagine
less than words can say
less than nothing







YOU ARE ALL OTHER IS YOU

Other does
what you would do
if you were it
while you do
what it would do
if it were you



IMBALANCE

We acclaim the balance
of the perfect moment
of time's end
in ecstasy
while imbalance stands
its fall ongoing
no limit to
despair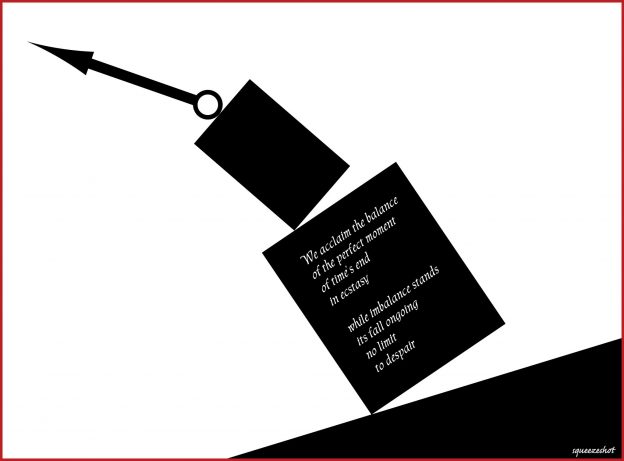 MY ANGELS

My angels within and outside me
the same place and being
miraculous ordinary
Relax they say
and mean it
without saying
I have never seen
such a non-surprise








ALIVE


Everything that exists
is alive to you
is alive
is you
your selves
all of them at once
past present and future



WHEN THE LIVING CELL

When the living cell divides
it does not want
it does not think
it need not feel ready









POSSIBILITY

It
could
well be
the fury of it
right from the start
naive ecstatic impossible
The wave breaks
and possibility
joins
ONE THING MAKES SENSE

One thing makes sense
Nothing
Not even that
It is no object or idea
no location or absence
no question we can ask
and no word we can use
It goes without saying

We have no shape
to give it
no effort to
make on its behalf
There is nothing for us to
be aware of and that is all
We have no use for humility
We can take no pride in anything


AT THE MIRROR

At the mirror
in the mirror
more and less alone
an other layer of illusion
AS IT SEEMS AND NOT


Look once
then look again
It is as it seems
but never as it was
As it seems and not
and neither more true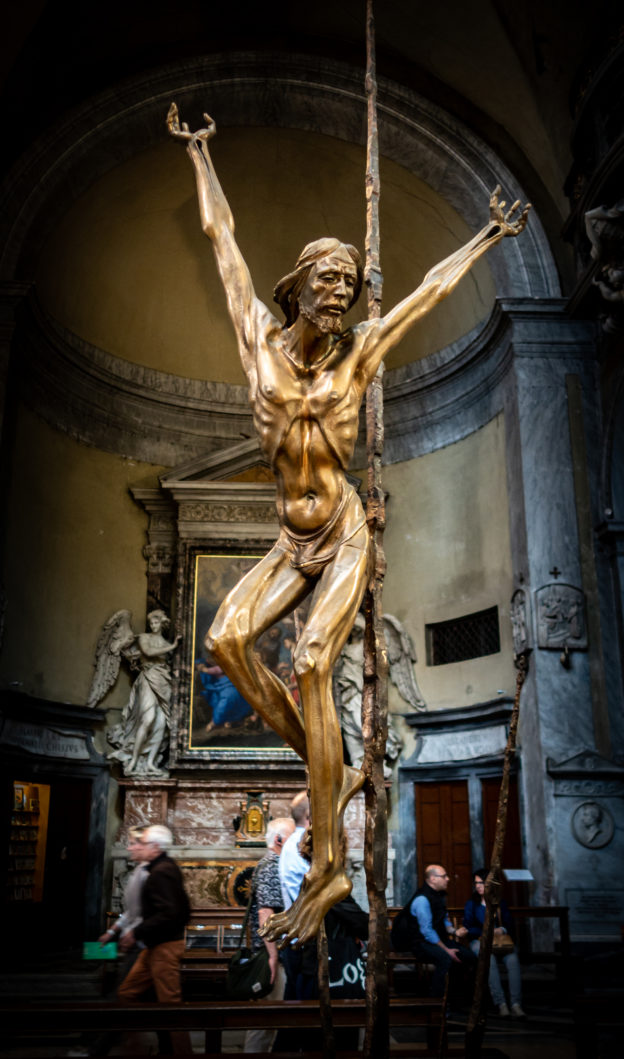 Crucifix (Florence)



EVERYONE IS JESUS

Everyone is
Jesus
Moses
Buddha
Mohammed
God and gods
risen or fallen
devils demons
you name it
Everyone is
everyone too
and every
creature
and thing
every cross
that you bear
nail in your flesh
spear in your side
and every wonder
miracle and blessing

All of that your typical
long-term love affair in
which nothing is ever wrong
except for your understanding








COINCIDENCE

We
hang
suspended
in the grip of self
in motion without
location orientation
or momentum
in the grip
of coincidence
of which we make much
WORDS


Do words say more than
a bull's bellow
a cricket's chirp or
a robin's morning song


YIN/YANG


The one abides with the same
the equal with the opposite
as the yin with the yang
EVERYTHING A QUESTION

Everything a question
once vague
now what
Context is all and
freedom the
moment

We take issue yet
we treasure
every
least
There is awareness and
there is the eye
of the storm
the look of
love
No concept applies
and no chance
The wheel
turns
neither to nor from as
we think and say
and do with
what at the
center


REFORM


We come of the void
into an age darker
than we like
where RE
cannot transFORM
It looks like it can but it can't












THE QUESTION OF DEATH


The question of death
its lean and drift
a need not yet explicit



(Also see the Question of Death slideshow.)








OBLIGATION


Obligation the weight of
inclination such as I am



THE DEFINING POEM
OF A MODERN AGE


The tink of a pencil
tapping
on glass

No repetition
only persistence
Space that contains
no points
has no limits



SAME AS EVERYTHING


Some of us think everything
is understandable
or might be.
It isn't.
Understand?



IF I WERE THE ONLY

If I were the only
or one less than every
then everything would
be different another
world and moment
But I am only
one of the only
no different
from all
the rest



AROUND WE GO

Around we go in a frenzy
Voracious but without appetite
we sever our limbs then continue
a swelling sphere of destruction
without regard for the body's
end our own or any other's
In the blur of blades we
serve as butcher
beast and
meat
Around we go with
more to come in different
moments with different words
the truth always in question as if
it exists our lives wonderful but also
a struggle a journey in which we fight
and love and endure again and again
We discover beauty and move on
So powerful is our urge so great
our need and so pure
our every
wish
I have seen beauty
in darkness and in dreams in
dimmest light and most brilliant
in candlelight at dinner and
over drinks in the tavern
and on movie screens
computers and TV
and in photos
and on the
printed page
I have heard it in
the symphony hall
when the whole place
opens to the heavens
And I have found it
at funeral services
in the pews the
pulpit and
in the final box
where eternal absence
masquerades as human





HOPE


Hope
the measure
of our discontent
the final sin plague and curse
which Pandora for a time
retained in her jar
where it could
cause us no pain
and encourage in us
no false expectations
PATH

Regarding
object
space
motion
and time
dreams than
which we have
no other we incline
as beasts to the yoke
to believe that each thing
abides apart that each event
has happened or is happening
now or will and not all three at
once and only here or only there

In our waking sleep our concepts
of object space motion and time
can only begin to describe
What can our next step be
except more dream
yours and mine
I cannot imagine
I fail at the prospect
Why ask as if there
is any question
The answer
is around
and within us
as noble as death
life's natural suicide
We have cracked the sphere
and cut a path from source to destination
This is the path and you and I are together upon it








DIRECTION


Polls statistics
and similar points
in the void their cartography
narrowly conceived give direction
as if to reassure us and help us know our minds
PEACE/WAR

All we are saying is
PEACE

All anger declares
WAR


ELOQUENCE


Blossoms splay
stomped into the street
detritus of the parade
In bruised
retrospective
they feint at delight
remind us of happier times
reveal how far we 
fall short of eloquence


MATTERS OF DEGREE


cynicism
skepticism
unbounded love
matters of
degree



DRAW

We draw
what we are
what everything is

We mark the page
pose and suppose
make what sense we can












WHAT WILL HAPPEN


What will happen the
question is unanswerable
the future gone like the past
elusive playful and in deadly
earnest it does not exist we
make it up incomplete we
pull and wiggle a piece
of yarn for the kitten
who spurts ahead
and grabs for it
with its sharp
little claws
and all of
its mighty
might be


THE VOID EXCEPT FOR WHICH

My fingers press
my keyboard ticks
my mind pushes through
the void except for which
The difference is nil
between intended and not
idea and not a glimmer
created and not begun
intelligent and insentient 
But nil between is never neat
'twixt if and when and
whoop and whoopee
on down to whee
And less than nil is
hard as death and
unending as hell
which all of us
hope to avoid

THE ETERNAL WOUND


The mind the void our universe
our ancient eternal wound which
though we try we cannot heal
which is good because
we need it just as it is



BEFORE DAWN


This morning before dawn
I heard through my open window
a creature crying out softly
a gentle warble declining

Again and again it cried
pausing only to breathe

Was it a bird? a cat?
And why was it calling?
Was it lost, suffering? 
Not singing, surely,
for I heard no joy 

I got out of bed
stood by the window
and listened closely
but I learned no more

Was it summoning me?
Should I go downstairs
and look outside
see if I should help? 







AM I THE WAVES?


As many as the waves am I
and the waves within the waves
But am I the waves?
I can't be certain








PHILIA (FEEL YA)


Your smile glows
from within
and without
pure of spirit
an ocean of 
welcome
promise
and desire



BANG

Bang
The bullet flies
blunted by the wind
There the true report of war

Use the earth
Burn it and live





NO LAMENT


We vanish soon to lie forgotten and unaccounted
our remains deceits of myth and memory
Such are the progress of mortality
and the persistence of souls



INSIDE


You cannot be free
inside these walls
your drums muffled
body tired soul weary
guns empty and graves
full of your fathers mothers
sisters brothers friends and
others too many to know


Close your bible and
turn from the podium
Walk past the flags
and go back home
You are alive
as you know too well
The dead cannot listen to you
Your words are yours not theirs
You are on your own inside these walls


So cue the flutes
something sprightly
for your exit your march
into sunshine a breeze a swirl
of birds a ruffle of leaves and a voice
from across the horizon your home
where someone is calling to you

Is that you there or who is it
If you know please tell us
If you don't know then
please go find out for
you and for all of us










Uncertainty
drifts with us
entangled and not
we and our shades
mortal and eternal
progeny of time's 
inconstant illusion
our will
our need
our hopes for
what may never be
ART    PHOTOGRAPHY    SAGA    VERSE    VIDEO
(Works)

---
TOP⬆